This is the reason I read my Lit Hub updates religiously because each week i get delivered a gem like this.
Istanbul is a beautiful city with a fascinating past, and not only due to its name change from Constantinople to its current moniker. (Do you have the song in your head now? Good—I did for nearly the entire time I wrote this book.) I spent a delightful long weekend exploring the rolling hills, gorgeous mosques and the gloriously overwhelming bazaar. Was I talked into buying a rug? Yes. Do I have regrets? I do not. And even though my research trip to Istanbul was short, I learned to love the city in that time, and was so happy that I'd chosen it for the location of my fourth Jane Wunderly mystery Intrigue in Istanbul. The city is poised at the meeting of two continents, Asia and Europe, and has historically been a great place for spies to ply their trade. What better way to honor that tradition than by talking about some of the great spy/thriller movies that have been filmed there?
Journey into Fear (1943)
This one is pretty difficult to find either streaming or on physical media, despite its star-studded cast. The movie is based on a novel of the same name that was written by Eric Ambler only a few years earlier and stars Joseph Cotton as an engineer working in Istanbul, trying to help the Turkish navy. Cotton very quickly becomes the target of a Nazi assassination plot and the rest of the movie is Cotton attempting to avoid being killed by various enemy agents. Orson Welles also stars as an over-the-top Captain Haki, although he did not direct this one.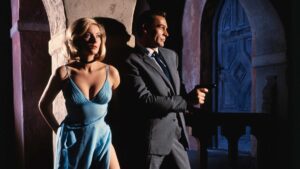 From Russia with Love (1963)
Yes, misogyny abounds in these early Bond films, but Sean Connery is nice to look at, and so is the backdrop of Istanbul where much of this movie is filmed. This is the second Bond film in the franchise and introduces the crime organization SPECTRE, legendary villain Blofeld, and the loveable character Q makes his first appearance here as well. Filming took place in and around Istanbul including places like the Basilica Cistern and the Grand Bazaar.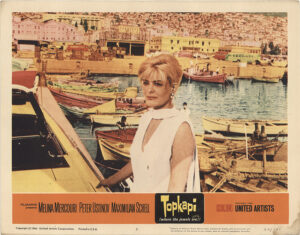 Topkapi (1964)
This heist movie is delightfully nuts, but Peter Ustinov won a best supporting actor Oscar for his role in this one—I always find Ustinov to be a treat. Melina Mercouri plays the lead role as a professional thief who assembles a team of men to steal a priceless artifact from a well-guarded museum in Istanbul. It's a caper movie that is by turns fun, over-the-top and suspenseful, and has some beautiful shots of the city.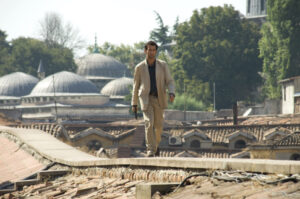 The International (2009)
An Interpol agent (Clive Owen) and Manhattan District Attorney (Naomi Watts) try to bring one of the world's most powerful banks—involved in things like arms trading and money laundering—to justice. This leads to an international chase across the globe, and while some of this is filmed in Istanbul, one of the best scenes might be a face-off between two characters on top of the Grand Bazaar.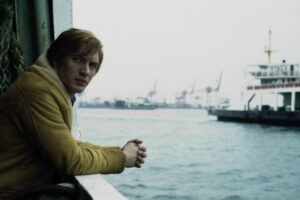 Tinker, Tailor, Soldier, Spy (2011)
Starring Gary Oldman, Colin Firth and Tom Hardy, this movie is based on the classic spy thriller by John le Carre' and takes place at the height of the Cold War. Oldman's character George Smiley is brought out of retirement to uncover a Soviet Agent within the British M16. During the movie, Tom Hardy's character makes a trip to Istanbul and filming was done on both the European and Asian sides of the city. The narrow streets of Istanbul were also used to fill in for Paris in another short scene.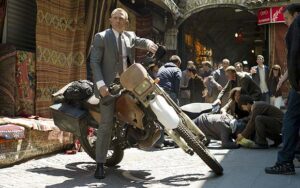 Skyfall (2012)
Bond's latest assignment goes terribly wrong, and agents across the world are exposed. Soon M16 is compromised—inside and out—and the only person M can turn to is Bond. The opening scene of this is filmed in Istanbul—Bond chases a bad guy across the rooftops of the city, including the Grand Bazaar.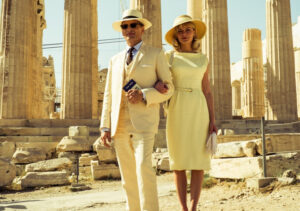 The Two Faces of January (2014)
This one might be cheating a bit, because even though much of the movie was filmed in Istanbul, it was filmed to look as though it was Greece. The fact remains, though, that it was filmed in Istanbul, and from most accounts the cinematography is the savior of this thriller (as is Oscar Isaac. I recommend checking out the reviews for this on Letterboxd.) The movie was based on a novel by Patricia Highsmith, set in Greece in the 1960's, and stars Viggo Mortenson, Kirsten Dunst and Oscar Isaac. An accidental death sends these three shady characters on the run, where disaster greets them at every turn.
Looking for Intrigue in Istanbul: 7 Espionage Movies Filmed in Istanbul