Would Ken & Neal have an opinion on this?
I have a funny feeling that Neal would have drunk it all and then asked for more…
This is the promo push i came across this week
In 1964, the Merry Pranksters hopped on a carnival-colored, converted school bus with a large supply of LSD in tow. Things would never be the same. Immortalized in Tom Wolfe's The Electric Kool-Aid Acid Test, the Pranksters' perpetual party was punctuated by brushes with the law and a psychedelic ethos that lives on: "embrace life, express yourself and break some damned rules."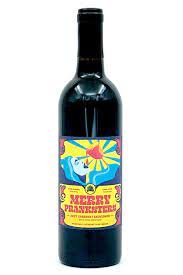 These words appear on La Honda Winery's label for the upbeat 2020 Merry Pranksters Cab. Talk about an eye-catching bottle of wine—ideal for those looking for the ideal April Fool's Day red wine. Plus, you can't beat the $16 price tag.
The grapes are hand-farmed, and the wine is handmade. It has some distinctive black currant, tobacco, coffee and mint notes with dark fruit flavors of blueberries and black plums.
La Honda Winery, a Wines of the Santa Cruz Mountains member (scmwa.com), boasts a beautiful property often called a "best-kept secret." You might even feel the lively spirit of Neal Cassady bouncing around.