The whippersnipper saga continues.
Prospective buyers are coming Thursday to view the Joglo so my Perth based landlady was on the whatsapp by 7am checking if I'd been hard at work.
I had as the photograph testifies.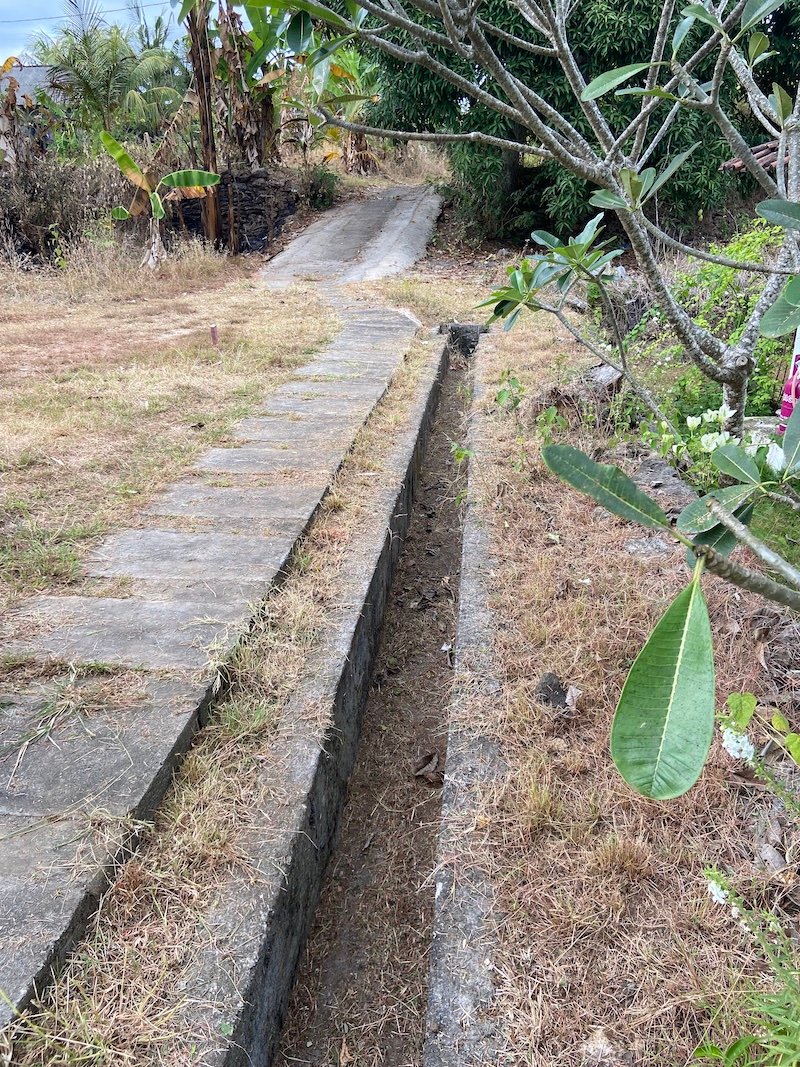 Pleased as i am with my clearing of the driveway drain I wasn't so pleased to see that the obvious eventually happened and sooner rather than later, the plastic whipsnip broke away making any further snipping no longer possible.
This is a perennial problem with this particular gardening tool as I remember only too well from my NSW Southern Highlands days where more time was spent fixing the damn machine than actually snippering. Ferns, vines and clumping grass are the downfall of the common and garden whippersnipper and today was no different until the task of actually replacing the plastic cord came up. In Australia it's jump in the car and down to Bunnings. In Indonesia it is somehwat of a more laboured affair.
For an island that is littered with plastic debris and all forms of devilish microplastics, when you are actually looking for a piece of plastic that might be of use the answer is a firm no. The builders store on the way to Mushroom Bay was my first port of call, they directed me across the road to another store with far too many unsold wheelbarrows outside the front.
intriguingly, the mustachioed man in his mid fifties, a rarity in this part of the world, the mustache not the age and his battered winklepickers who'd just directed me over to store 2 from store 1 was in exactly the same position in front of the cashier in store 2 as he had been in store 1. How he'd got there without me noticing is still somewhat of a mystery. It is a known on some islands in the southern part of the archipelago that people, like the spirits, can fly. This is my only explanation for him being in the two spots at almost exactly the same time.
The cashier in store two also gave me a very firm no when i showed him the requisite part of the whippersnipper that i had decided to bring with me on my scooter so there was absolutely no confusion as to what I wanted to buy. They did, though, have some WD40, which although I don't actually need, I decided to buy on the spot. Lembongan isn't a great place for retail therapy so a recognizable hardware brand was for a brief moment pure dopamine heaven.
The manager of my rental had also suggested a third location and had given me very precise description as to where the Gusga Minimart was. Her husband, a local, was adamant that  Gusga was the spot to buy whippersnipper cord., although he'd never actually been there it was definitely the place.
When i eventually got there after another 20 minutes of moped riding with whippersnipper in left hand and right hand on the throttle, harder than you think to keep your balance when a mini truck is hurtling towards you down an Indonesian tropical island country lane,  the owner denied her store was the Gusga and waved me away with a level of disdain matching that of QEII mingling with the hoi polloi.
Mission a complete failure I returned home for a cup of tea and one of the rather strange banana pastries i've taken a liking to from the bakery in Mushroom Bay
On a more peaceful note the Frangipanis ( bunga kamboja) are flowering around the house all at the same time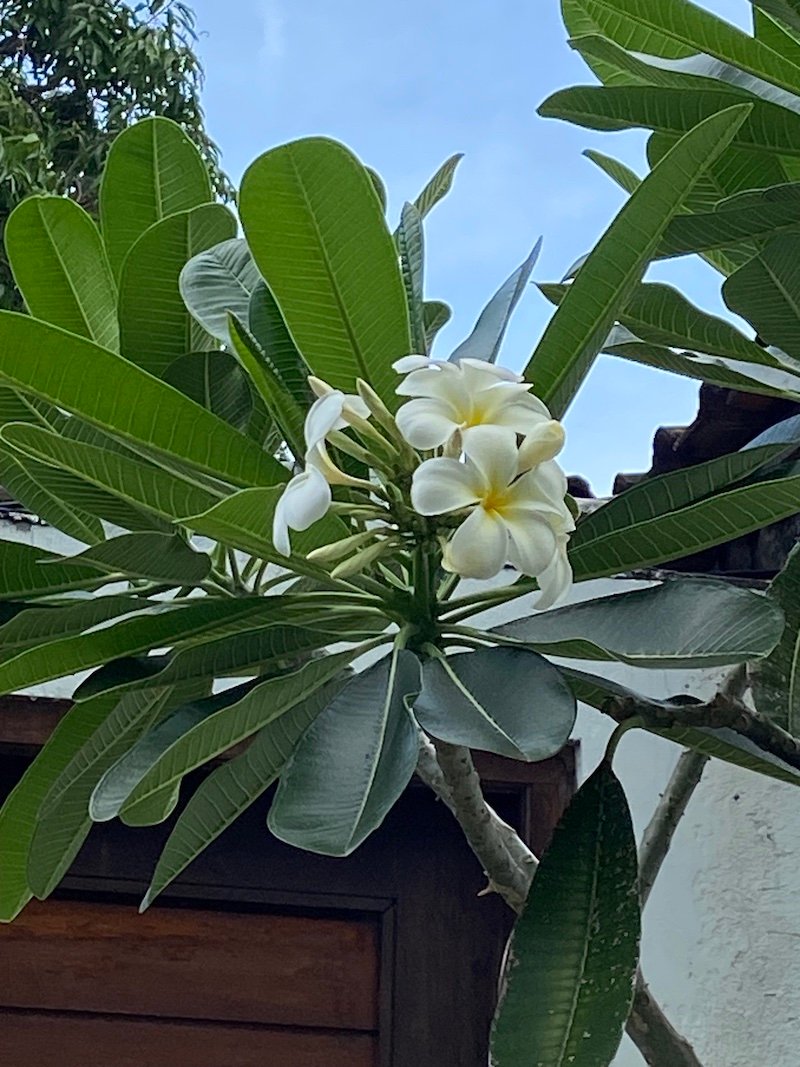 On a less peaceful note one of the wedding guests who turned up on the island yesterday had already managed to fall off their moped and sprain their ankle very badly. Reportedly the affair involved a visit to the clinic  which can't have been a cheap affair. Riding a moped in Lembongan isn't the hellish affair that it is on Bali but a certain set of multitasking skills are needed to ensure no nasty outcomes.
More on that another day.