Why not we say at BOTP
Alex CF's beautiful and important new book, 'Punks In The Willows', is a colourful guide to the punk rock community, told through the lives of animals.
This forty page, A4 hardback collection of illustrations depicts the creativity, music, social justice and above all, friendship that is found in punk.
With verses suitable for readers of any age, and gorgeous artwork that will be available as prints, posters and bookmarks.
This alternative keepsake book is available to pre-order now and will ship early in April.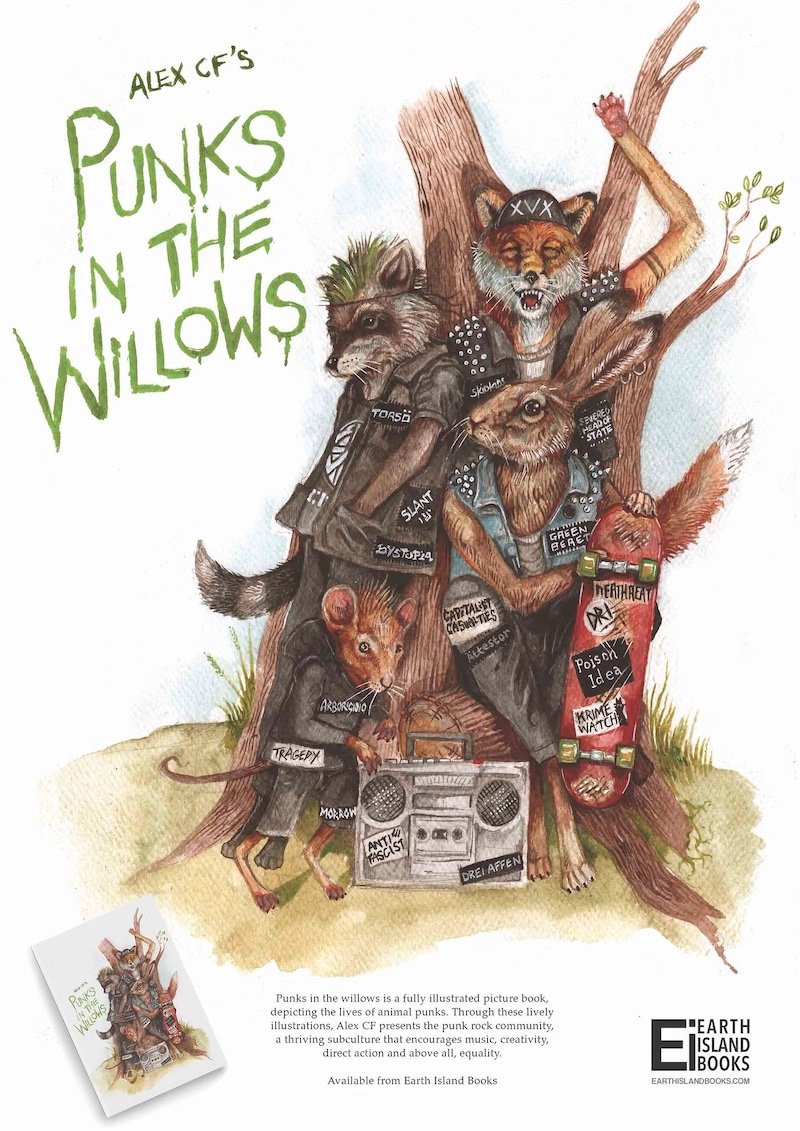 This is the limited edition hardback version.
There will be a less expensive paperback version and also an ebook available soon, as well as more great books by this author / artist.
About the author – Alex CF is an illustrator, author and sculptor. His work revolves around animal mythology and political fantasy, having written the environmental epic, 'The Books of Orata' – 'Seek The Throat From Which We Sing' and 'Wretched Is The Husk' and the illustrated companion book, 'The Orata, A Compendium Of The Cultures And Creeds Of Naa.' His personal and political aspirations are explored further in 'The Book Of Venym, An Egalitarian Demonology' An illustrated anti-fascist occult grimoire, a call to arms in the defence of nature and against humanities proclivities for violence, told through striking illustrations of benevolent demons and deities.
Alex has been involved in DIY punk, animal rights and alternative culture for much of his adult life, and is the vocalist in a number of bands, where he creates self contained narratives and artwork inspired by his favourite authors, and ideologies shared within the band. He was the vocalist in Fall of Efrafa, and is currently involved in many musical projects.
https://www.earthislandbooks.com/product-page/punks-in-the-willows-by-alex-cf